River Country Products' best-selling sleeping bag is a three-season bag designed for use in spring, summer, and fall. It is usually sold with a pad and pillow as part of a combo set. Although it will protect you in temperatures between 20-30°F (-6 to -1°C), it's more suited to temperatures between 40-50°F (4 to 10°C).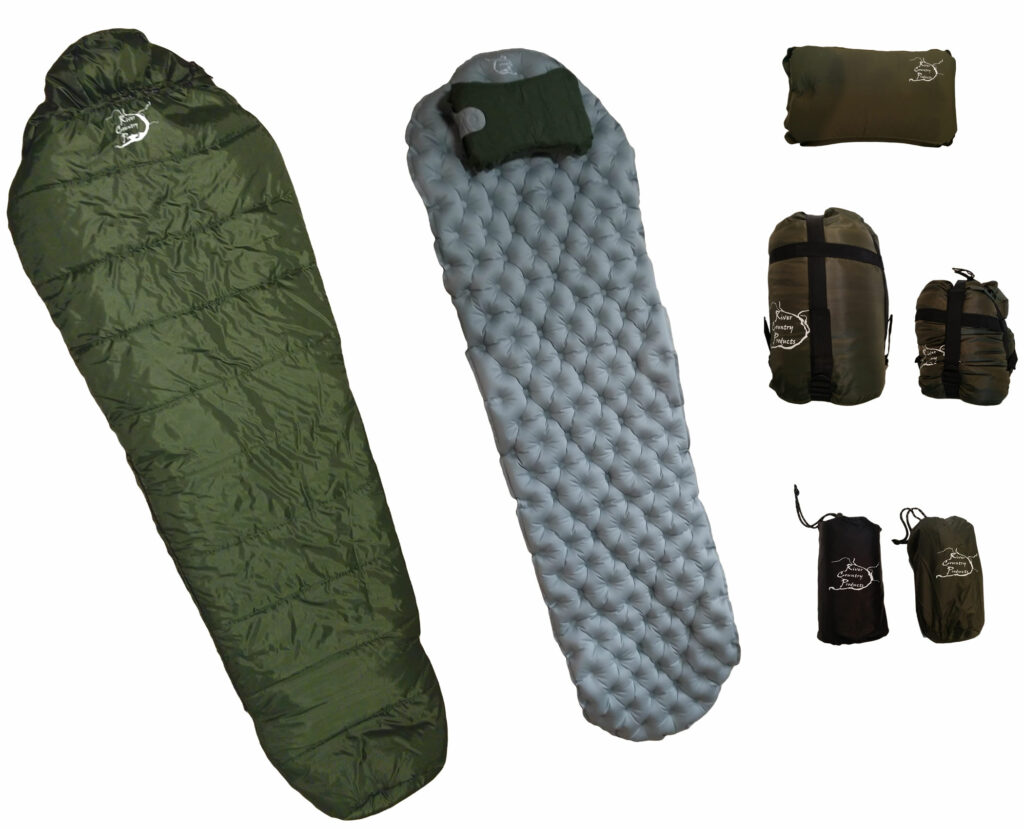 Because it's a three-season bag, it's lighter and more compact and versatile than a winter bag. This makes it easier to carry on backpacking trips or other outdoor adventures. It also has an adjustable hoods and a draft collars to help you stay warm in cooler temperatures. Weighing either 2 lbs 4 oz or 2 lbs 14 oz, depending on size, it is fairly light.
It's important to emphasize that temperature ratings are just a guide, so actual comfort levels can vary depending several factors. These include your general core body temperature, sleepwear, and insulation provided by the sleeping pad underneath the bag. In other words, you may want to overprepare for cold weather the first few times you use it until you know your comfort level.
Our sleeping bag combo is unique, because it comes with an inflatable pad designed specifically for the bag. The pad has the same shape as the bag, but it is smaller, so it can either fit inside the bag or be strapped to the outside. This means that you won't have to worry about sliding off the pad during the night like you may with traditional pads.
Another unique feature of this combo is that it comes with a pillow that also acts as a pump for the pad. The pillow allows you to pump up the pad with cooler, typically less humid air. One benefit of the pillow is that it keeps the pad free from internal condensation. Another benefit is that the cooler air temperature will make it less likely to deflate.
What do you think? Do you prefer a three-season bag? Or a winter bag?